Bioprinting cell therapies to treat cartilage injuries
ABOUT
An innovation in
cellular technology
Cartilage injuries occur in two thirds of all joint trauma, with many leading to osteoarthritis that cannot be adequately prevented or treated using current complex surgery interventions.
To combat this, the Axcelda team have developed a suite of technologies to accurately repair the joint injury by rapidly isolating stem cells from a patient (AxceldaQik™), combining with a proprietary biomaterial scaffold (AxceldaInk™) and then printing new cartilage using a hand held device (AxceldaPen™) directly into the defect.
Our combination of stem cell technology, engineering and surgical innovation promises to simplify surgery through a one-off surgical procedure with the capacity to bank cells for future use (AxceldaLab™) if repeat surgery is required.
Granting surgeons greater control in theatre
CLINICAL EVIDENCE
Supported by 10+ years of laboratory and engineering research and development.
INNOVATIVE
An innovative system that brings together the latest technology in biomedical engineering, biomaterial science and surgical techniques to create a dynamic technology offering.
INTEGRATED
A novel turn-key solution for the surgeon and patients for the repair of cartilage defects.
AxceldaPen
A lightweight, handheld 'bioprinter' allowing the surgeon to precisely pattern hydrogels and stem cells within a defect site, to surgically sculpt the articular surface, and to repair cartilage in the knee. AxceldaPen includes features to cure the scaffold material in situ using visible light, to achieve fixation and load-bearing capacity.
AxceldaInk
A proprietary biodegradable material based upon natural matrix proteins in human articular cartilage. AxceldaInk is formulated to carry the patient's stem cells safely through the printing nozzle, and to form a temporary cartilage 'scaffold' after deposition. Once implanted, cells actively break down the scaffold and replace it with brand new cartilage tissue.
AxceldaQik
An innovative and streamlined technology that accelerates the retrieval of regenerative stem cells from the patient's own fat, without using animal derived processing enzymes, and without leaving the surgical field. AxceldaQik enables immediate reimplantation in a single surgical procedure.
AxceldaLab
Off-site, proprietary technology to retrieve, expand, separate and store patient-derived stem cells in large numbers. AxceldaLab provides an economical solution for patients and hospitals to bank populations of their own regenerative stem cells for use in future surgery.
Combining research with medical expertise and entrepreneurship
Axcelda brings together surgeons, mechatronic engineers, material scientists, bioengineers, biologists and other talented people with expertise in design, manufacture, quality control, regulatory, patent and intellectual property protection and product commercialisation.
PROF. PETER CHOONG
Professor Choong is the Director of Orthopaedics, St. Vincent's Hospital Melbourne and Chair of the Bone and Soft Tissue Tumour Service, Peter MacCallum Cancer Centre, Melbourne and has almost 30 years' experience in research, teaching and medical leadership.
PROF. GORDON WALLACE
Professor Wallace is an Australian Laureate Fellow and the Executive Director of ACES. He is also Founder and Director of the Intelligent Polymer Research Institute (IPRI) at the University of Wollongong and Director of the Australian National Fabrication Facility (ANFF) Materials Node.
A/PROF. CLAUDIA DI BELLA
Associate Professor Di Bella is a Fellow of the Royal Australasian College of Surgeons (FRACS) and a Fellow of the Australian Orthopaedic Association (FAOrthA). Assoc. Prof. Di Bella is expert in lower limb joint replacement surgery, which she performs using the most advanced technologies, including 3D printing and robotic.
PROF. SIMON MOULTON
Professor Moulton Prof Moulton has 20 years' experience leading teams in developing new materials in collaboration with medical clinicians and surgeons for use in a wide range of clinical applications.
TEAMS
Experience, teamwork and technical resources
Axcelda is a multi-disciplinary project developed by teams from St Vincent's Hospital Melbourne, University of Wollongong, University of Melbourne and Swinburne University of Technology.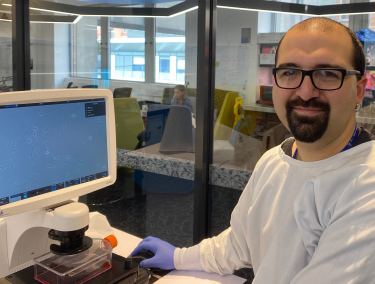 Swinburne University of Technology
Level 2, 77 Victoria Street
Fitzroy, Melbourne 3001